September always feels like a fresh start. It might not have the commercial and mainstream backing New Years does, but, for me, September is a time of reflection, reevaluation, and recuperation. It's a time when I evaluate my lifestyle, my goals, and the journey I'm on.
Exercise always helps keeps me grounded and motivated during these times.
Yoga has been a staple in my life for the past few months now. Its when my life off of the mat is full of uncertainty, that I feel most connected to the practice.
My time on the mat has become a place of solace; a place to reconnect with my body and to feel more connected with the natural world. I use this time to focus on how I can make and do better through the simple things in life and my daily routines.
That is why sustainable activewear is so important to me; I want to be comforted by the knowledge that I am helping myself feel better whilst actively trying to do better.
As we know, sustainable fashion brands are often accompanied by a larger price tag. We've included an indication of the prices of these brands and the size ranges they provide to help you find the right sustainable activewear for you!
Organic Basics
Organic Basics are leaders in the sustainable fashion revolution. The Copenhagen-based brand uses renewable energy sources and organic cotton, which helps reduce their climate impact. Their pieces encapsulate their Scandinavian roots with minimalist design and neutral, earthy colours.
Price: ££
Size: XS-XL
Find out more about Organic Basics here.
Girlfriend Collective
Girlfriend Collective is a killer community of women making and wearing sustainable and eco-friendly activewear. You can find out exactly how your Girlfriend Collective garments are made and distributed on account of the brand's transparency values. They stock an array of different activewear, all in eye-catching colours and size-inclusive– Girlfriend Collective are setting the standards high when it comes to sustainable activewear.
Price: ££
Size: XXS-6XL
The brand provides a comprehensive breakdown of how their fabrics are sources, dyed, made into garments, shipped, and packaged. You can find everything you could possibly want to know on their website.
Indigo Luna
Indigo Luna is an eco-friendly yoga, swimwear, and linen brand. The family-run business aims to provide an alternative to mass production and fast fashion. Each garment is made with love and care by an individual as the brand runs on small and slow runs to reduce unnecessary waste. With a beautiful aesthetic, inspired by Scandinavian/Nordic simplicity, the brand creates long-lasting, beautiful activewear with minimal environmental impact.
Price: ££
Size: XXS-XXL
Read more about Indigo Luna, their products, and their sustainability policies, here.
BaYou with Love
Sustainable fashion is increasingly becoming part of the mainstream. Nothing exhibits this better than activist and actress, Nikki Reed, producing a sustainable lifestyle brand. Reed hopes to inspire other brands with her companies strive to be zero waste. The brand's activewear is a combination of recycled polyester and natural dyeing methods.
Price: £££
Size: XS-XL
Discover more from BaYou with Love here
VYAYAMA
VYAYAMA is activewear that is kind to the skin as well as the body. Guided by mindfulness, VYAYAMA products aim to inspire quality, beauty, and joy. They use Tencel, a sustainably farmed material made from eucalyptus. Their unique custom fabrics have awarded them a certified safe brand for being kind to the body and the environment.
Price:£££
Size: XS-XL
Read more about the VYAYAMA ethos and brows their range of fun prints and basic activewear here
M&S
If you're looking for a product that's more widely available, and on your local high street, M&S' activewear is graded as 'good' by the good on you directory. Striving to reduce its greenhouse gas emissions, the brand uses a mixture of eco-friendly and recycled materials.
Price: £
Size: S-XXL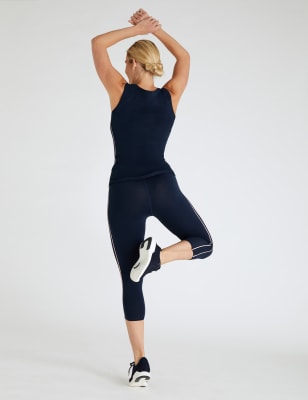 Read more about M&S on the good on you directory here, and discover their range of activewear on their website here.
Boody
Boody value high quality, durable, and sustainable clothing. Their garments are made from organically source bamboo, meaning they are environmentally friendly and soft on the skin. Founded in Australia, the brand now has a global presence that they use to spread the message of mindful, eco-friendly, stylish, and comfortable clothing– Boody tick all the activewear boxes.
Price: $
Size: XS-XL
Discover their products and the brands ethos on their website here.
HARA
A love for slow fashion and a concern for the devastating impact fast-fashion has on our planet were the motives behind Hara's creation in 2016. Hara is a conscious clothing brand with nature and ethics at its core. They work closely with the Environmental Justice Foundation to support environmental projects regarding the production of cotton across the globe.
Price: ££
Size: XS-5XL
You can discover the brands bamboo activewear here.
TALA
Founded by Youtuber and businesswomen, Grace Beverly, TALA has helped project sustainable activewear into the mainstream. The brand makes sustainable fashion fun, fashionable, accessible, and affordable. They use a mixture of recycled and regenerated raw materials and provide complete transparency regarding their production line. TALA keeps striving to be as sustainable as possible, thinking up unique and creative ways to give back to our planet.
Price: £
Size: XS-XL
Read more about TALA here
Elle Evans
Founded in Melbourne, Australia, the Elle Evans initiative is to help preserve and reduce the waste in our oceans. Through each garment being made to order and shipped in compostable packaging, Elle Evans eradicate unnecessary waste. Their use of econyl, a material made from plastic ocean waste, means their products are eco-friendly and kind to the skin.
Price: £££
Size: XS-XXXL
Brows Elle Evans range of unique and size-inclusive activewear here
Shop This Post
Black Top/ Pattern Top/ Orange Top/ Zebra Leggings/ Black Leggings/ Sock/ Black Top/ Blue Cycle/ Hoodie
Pin this post for later!